Recover Wiring Schematic from existing PCB Card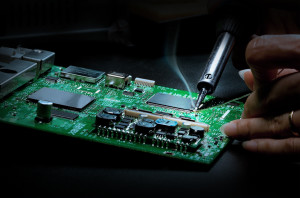 All PCB card's Wiring Schematics we have recovered are all proofreading by circuit board pattern network, all the component's designation, part number and network name are all complete and easy to check. Also apply "relative centralization of components of functional module" onto module drawing method, it is readability can even equal to original designed PCB wiring schematic after recovery from existing pcb board. Customer can easily understand the original design idea of product, to capture some flash spot of high advanced design, moreover, customer's unique idea can be integrate into it for launch the high advanced product through our PCB Reverse engineering.
Not only the most updated PCB Recovery software we use, but also master numerous methods of PCB Reverse engineering after all these years of practice and accumulated experience. We can provide service include various kinds of high-frequency PCB Circuit Board Reverse engineering and Modification, multilayer blind/buried via PCB Board wiring schematic recovery and design, even mobile phone wiring schematic recovery and reverse engineering, which can be viewed as precise and detailed technical principle reference for the research, design and test on final stage of your product.
Tags:
recover circuit diagram
,
recover schematic diagram
,
recover wiring diagram