PCB Reverse Engineering Dimension Analysis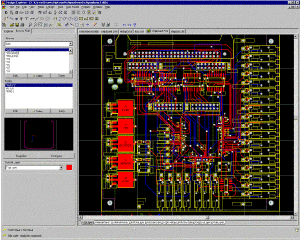 Dimensional analysis of PCB Reverse Engineering:
1
Dimensional analysis of PCB reverse engineering's objective is to define the size and shape of the parts and locate all part features, these parts include the electronic and mechanical. Tolerances describe the dimensional limits to facilitate manufacturing while ensuring proper fit and function of parts or assemblies. A dimensional analysis should be conducted on all hardware piece-parts/components. Parts that could not be disassembled previously may be cross-sectioned and cut away if necessary to establish the dimensional data.
2
Considerations of Dimension Analysis:
The following should be considered when performing the dimensional analysis:
a. Bearing housings and shaft fits should be noted. When they are not in accordance with standard recommended practices in the bearing manufacturer's catalog, additional bearing seats and tolerances should be reviewed and investigated. The variation could be a manufacturing error or done deliberately for some engineering purpose.
b. Assumptions concerning screw threads should be avoided since manufacturers often produce unique threads to prevent others from copying them or substituting standard threaded parts. The pitch diameter should be measured and compared to the classes provided in Federal Standard H28/18.
c. All clearances should be measured and noted to assist in the tolerancing of individual parts. These should include, but are not limited to:
(1) Lateral movement,
(3) Torque,
(4) Operating loads (i.e., handles), and
(5) Keyway clearances.
d. Welded joints should be cross-sectioned to determine the depth of penetration and the preparation treatment which may have to be performed and the length and size of fillets and bevels used.
e. When parts have features that appear to be of no useful function for the item's intended use, consideration should be given to the manufacturing processes involved. A hole or protrusion could have been designed to facilitate the manufacturer's requirements. Such features should be noted. When the final drawing is prepared, those features should be indicated as optional for manufacturing purposes.
f. In many cases, manufacturing methods, such as punched parts, injection molded, or investment cast parts, indicate dimensional requirements.
(1) Normally, items that are sheared or punched do not require a good surface finish on the sheared edge. However, in some cases, the manufacturer will intentionally punch a hole with a minimum clearance between the punch and the die. This is done to create a larger "straight land" in the hole, which may be required as a load bearing surface or to minimize wear on mating parts. When reverse engineering a punched hole, the "land-width" should be noted. If it is more than 25% of the length of the hole, it could be intentional.
(2) In addition to the draft and parting lines, ejection-pin locations should be included in the final drawing.
g. Joining methods such as riveting or spot-welding may require testing to determine the strength requirements. Many spot-welded items are controlled at the weld by pull-tests. If necessary, applicable specifications should be reviewed for inclusion in the final TDP.
h. Heat treatment should be evaluated, using cross sections as required to determine case depth, grain structure and other metallurgical requirements. Grain flow on forgings should be noted.
i. Whenever a pressed-in bushing exists, concentricity of that bushing to the diameter securing it should be ensured.
j. If dowel pins are used to align mating parts, the location of the pins at the projected distance should be ensured to assure the fit of those parts.
k. Surface finishes on all mating surfaces should be checked, whether or not a gasket is used.
l. Casting surfaces subject to wear for grain structure variances caused by special casting processes should be examined using chills to "harden" the casting in that particular area.
m. Electrical wire diameters should be measured and insulation type and thickness noted. The length of the wire should be duplicated even if it appears to be excessive. Shortening a wire length could change the electrical characteristics of the end item.
3
A manufacturing process variation can produce some strange numbers for part or assembly dimensions. Unless the dimensions or specifications for the next higher assembly are known, "normalizing" of interface dimensions is not recommended.
4
If possible, dimensional analyses should be performed on not less than two items. The results of each may then be compared to determine the possible existence of manufacturing variances as an aid to establishing tolerances, and to ensure they are identical as the probability of randomly selected items with identical defects is negligible.
 5
If possible, it should be determined whether items were manufactured in the same lot and this fact noted accordingly for the producibility study. Parts manufactured in the same lot may have very slight dimensional differences, may not accurately depict the allowable tolerances, and may have identical defects.