Circuit Card Reverse Engineering Procurement, Production & Assemble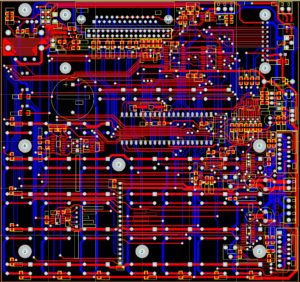 Procurement after PCB reverse engineering:  A decision to procure the individual circuit card prototypes for test, as opposed to a first article test in a production run, should be the result of an economic analysis considering delivery times and tooling costs.
Circuit card fabrication after reverse engineering. When an item is a relatively simple assembly, consideration should be given to procuring the parts individually and assembling the items in-house.
Inspection and quality control of circuit card reverse engineering
Inspection of circuit card and assemble. All circuit card prototype parts and assemblies should be inspected in accordance with the incoming inspection policy. The decision to accept, reject, or rework the item should be made by the cognizant engineer, and all appropriate documentation should be completed.
Circuit card reverse engineering quality control plan . The quality control plan should define procedures for controlling procurement, manufacturing, assembly, inspection, testing, rejection, rework, and approval of the prototype built in accordance with the developed drawings and specifications. Each item should be inspected in accordance with disciplines such as mechanical, electrical, welding, material, dimensioning and tolerancing, as applicable.
Assembly of circuit card of reverse engineering. During the assembly cycle, care should be taken to duplicate the requirements annotated on the assembly drawing and ensure that lubricants and fluids meet the applicable specification (this includes all clearance and torqueing requirements).
Circuit Engineering Company Limited provide a complete PCB Reverse Engineering, PCB Clone and PCB Restoration service, Rapid Prototyping and functional test services using the latest technologies combined with traditional skills for a wide range of industries. By integrating our traditional skills with the latest technologies, we can offer clients a comprehensive portfolio of product development services all under one roof. For more details please contact our customer
service team.
Tags:
double side circuit card reverse engineering
,
flexible circuit card reverse engineering
,
inżynierii odwrotnej płytka drukowana artwork
,
inżynierii odwrotnej płytka drukowana bom
,
inżynierii odwrotnej płytka drukowana component list
,
inżynierii odwrotnej płytka drukowana design
,
inżynierii odwrotnej płytka drukowana gerber file
,
inżynierii odwrotnej płytka drukowana layout
,
inżynierii odwrotnej płytka drukowana part list
,
inżynierii odwrotnej płytka drukowana schematic
,
multilayer circuit card reverse engineering
,
rigid flex circuit card reverse engineering
,
single side circuit card reverse engineering